---
Euroseeds2022 Congress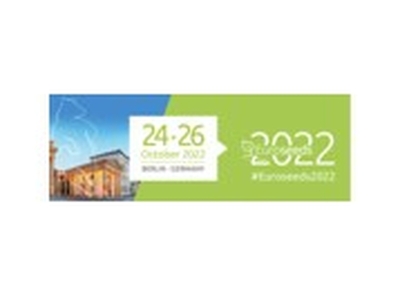 With close to 1.100 registrations already, the Berlin Congress once again promises a lively and buzzing atmosphere of discussion, trade and exchanges on latest economic and policy developments as well as a large-scale exhibition that showcases the innovative potential in and around the plant breeding and seed industry.
We believe in the power of knowledge, science and innovation to achieve both, an agriculture that is performant, competitive and assures food security for Europe and beyond; and that respects and supports a truly sustainable use of natural resources and protects our environment!
We kick off the Euroseeds2022 Congress with our "Welcome Evening Reception" on Sunday, 23 October, at 18.30h. Please note carefully that the Trade Floor remains closed on Sunday! All trade, exhibition and open meetings will only start on Monday morning; for details, please check the timetable here.
What about the covid situation? For the time being, there are no specific restrictions or conditions in place as regards travel and/or larger conferences or events! But as we all know, this may change quickly. We continuously monitor the situation and will keep all attendees fully informed of any new rules or conditions that may apply. Rest assured that health and safety of all our guests remains our priority.
Our host city Berlin has undergone an exciting transformation since being reunited and -again- becoming the capital of Germany. Make sure to save some time to visit the historical centre with the resurrected Hohenzollern castle or some of the new, exciting quarters. And if you like some pointers, we have some great suggestions here for you.